The scent of a beard oil is an important part of the beard oil experience. However, some men find that they prefer to use unscented beard oil.
They want the benefits that beard oil provides with none of the scent.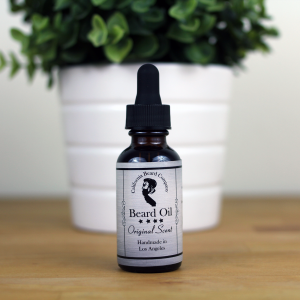 Our Beard Oil contains only organic and natural ingredients
Beard oil is composed of two major ingredient categories: carrier oils and essential oils. Carrier oils are vegetable based oils like Jojoba and Almond. They have incredible moisturizing effects, have a neutral odor, and comprise about 98% of the total solution.
Essential oils are potent and can cause tingling or burning on the skin if not diluted properly.  The carrier oils help reduce irritation and provide  the moisturizing effects. Essential oils can be antimicrobial, help reduce ingrown hair, and promote follicle stimulation.
Unscented beard oil contains the same exact same ingredients as scented beard oil, minus the essential oils. Essential oils are included in beard oil to provide health benefits and fragrance. However, excluding essential oils will not reduce the overall effectiveness of the beard oil.
Reasons to use unscented beard oil
You have a favorite cologne or fragrance and don't want to wear competing scents

Your skin is extra sensitive to the essential oils

Some beard oil scents can be overwhelming so avoid the problem altogether
Our suggestion
You should have one of both types of beard oil because there are many use cases where one is better than the other. With unscented beard oil you can wear other fragrances and not worry about competing scents. However, maybe you only wear cologne for special occasions so having a scented beard oil will be good for regular daily use.
You should regularly use unscented beard oil if your skin is sensitive to essential oils or you absolutely do not like any available scents. Otherwise, take advantage of the fragrance and health benefits of essential oil.
Get one of our beard combs to ensure your beard is getting the best care.
We say that California Beard Company's Unscented Beard Oil is the best unscented beard oil on the internet. It contains organic and natural ingredients with no added chemicals, sulfates or parabens. We use the highest quality ingredients to strengthen your beard and hydrate your skin.
We plant one tree for every product sold. Learn more about our tree planting program, or head straight to the store.
Liked this article?
Download our FREE beard growing guide now!
Enter your email to get "The Ultimate Guide to Beard Growing" emailed to you